What Kind Of Leader Do You Want To Be?
Published April 14, 2016
The WCA is thrilled to introduce a new voice to the GLS family, Salvation Army Officer and church planter, Danielle Strickland. At a recent GLS Host Site event, Danielle's story-telling and spiritual depth impressed a room full of seasoned pastors and communicators. The clip below, from her session, will allow you to get a sneak peek into one of our newest friends. You're in for a treat!
To attend the GLS at a premier host site near you, register right here by May 24, 2016 date for the best rates. Check out the The Global Leadership Summit website to see other members of the faculty and for additional information.
Never miss an inspiring leadership insight or the latest leadership news!
About the Author(s)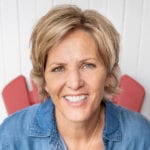 Pastor, Author
Danielle Strickland is currently based in Toronto, Canada. She loves Jesus and she loves people. She is the author of 6 books with her most recent being Better Together: How Women and Men Can Heal the Divide and Work Together to Transform the Future. She is host of DJStrickland Podcast, ambassador for Stop the Traffik, as well as the co-founder of Infinitum, Amplify Peace, The Brave Campaign and the Women Speakers Collective. Danielle is a mom of 3, wife to @stephencourt and has been affectionately called the "ambassador of fun."
Years at GLS 2016, 2018, 2019