Published February 6, 2019
Inspiring Creativity and the Dreams of Youth in Vietnam
In November 2018, more than 350 leaders gathered for The Global Leadership Summit in Ho Chi Minh City, Vietnam. We're excited about the growth in Vietnam, and serving Christian leaders from every sphere of influence.
Here are just two stories from attendees—one from a mother, and the other from a teacher. Thank you for supporting leaders like Nguyen and Tran!
A big vision for my kids.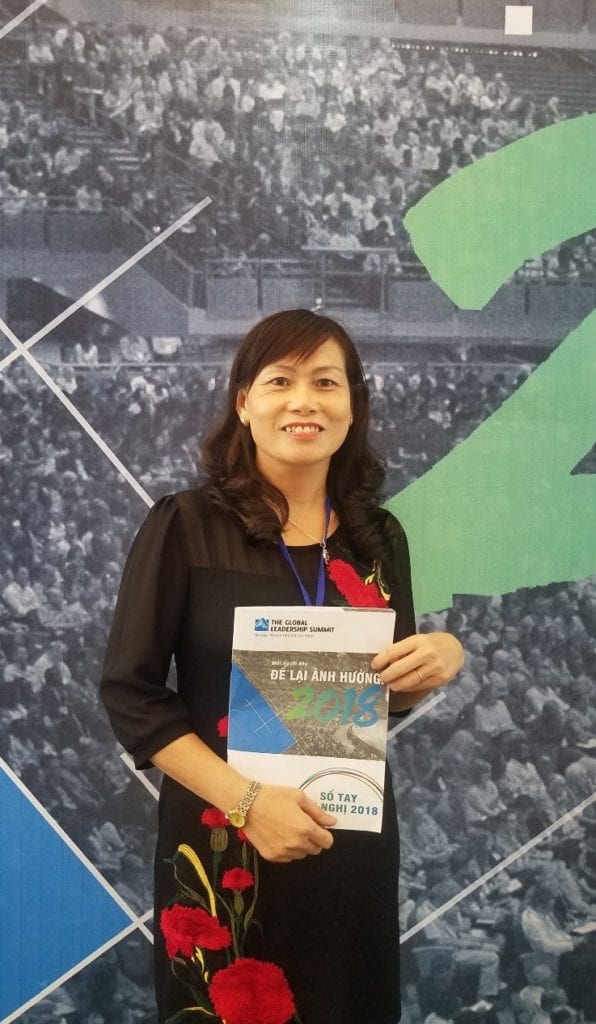 Each time I come to the Summit, it widens my horizons. I was especially struck by Sam Adeyemi's talk on leading from the inside out. In his talk, he told a story about a mother who was asked about her children's ages, and she responded, "Oh, the doctor is three and the lawyer is two." I was so surprised by this answer. The woman in the story has such a big vision for her kids. It was such a precious lesson for me—to dream big and nurture beautiful things in others. I too am the mother of two kids. I want to encourage my kids to believe in themselves and realize that no matter what they do for a living, it is God they will always serve.
—Nguyen Thi Tron
Encouraging creativity in the classroom.
I help with technical support at the GLS. Even though I'm usually very busy keeping track of the technology so that everything runs smoothly, I didn't miss out on any of the messages. I really liked Fredrik Haren's talk on creative leadership in a rapidly changing world. I've been a primary school teacher for the last five years. I always want to help my students develop to their peak. I want to help my students not to be afraid to show their creativity. I am an innovator, and I really like new things, so Fredrik's talk really inspired me. I know many old methods are effective, but if we only follow the old ways of doing things, work will become dull, and we will become outdated, compared to the rest of the world. I'm going to be even more encouraging to my students to develop their creativity. I will let them know that it's ok to make mistakes, because they can only develop once they get out of their comfort zone. I like this quote by George Bernard Shaw who says, "Imagination is the beginning of creation. You imagine what you desire, you will what you imagine, and at last, you create what you will."
—Tran Toan Thong