The Six-Week Illusion
Published January 3, 2018
A common request was delivered to my inbox today.
An executive from a team-building company wanted to interview me for a corporate blog. These types of invitations are flattering, but hard to link to results.
I should have said, "No, thank you." But a flaw in thinking prompted me to say, "Yes."
I replied, "Now is not a good time, but I'd be happy to comply in about six weeks."
According to my calendar, my thinking and (as we will soon discover) my powerful delusion, March was wide open. I assumed it would be a cakewalk compared to the busy January I was already knee-deep in.
Only, if I really think about it, if honesty and clarity truly prevail, January also appeared wide open at one point. It looked open and fluid and interview-ready. But somehow, behind my back, January had filled itself up to bursting—as future time always does and as future time always will.
The phenomenon I've just described is called The Six-Week Illusion—a trick our minds play on us as they downplay the potential busyness of a future time, which is just a little bit down the road.
We tend to believe that a coming time will be calmer and easier than the hectic present. Inevitably, this turns out to be an illusion.
Let's fast-forward six weeks into my future and see exactly what March will hold.
Six weeks into the future, my three boys will still be here and, to my best guess, they will still need grilled cheese sandwiches, countless rides and a patient referee. My personal needs for exercise, home maintenance and a social life will be waiting for me. My husband will need me. My clients will need me. Creative March business ideas will tap me on the shoulder and demand attention.
But, somehow, the beautiful blankness of the unpopulated calendar creates a kind of fantastical hopefulness that affects my choices. I say, "How about later?" Yet, the vicious kicking of busyness down the road continues.
Why is it so hard for me, a smart person who's an expert on workflow, to do the math? To close my smart eyes and remind myself that events, tasks and trips will surely flood in between now and my six-week future?
Why can't I conjure, with self-protective accuracy, the knowledge that I'll no more wish to do the blog interview in March than I do now?
It may be a form of procrastination, or even innocent optimism, like when I think it's going to take me 15 minutes to cross downtown Los Angeles at 4:45 on a Friday afternoon.
It's important to understand that this particular type of pain-delay occurs only with mid-value requests. High-value requests receive an excited acceptance right away. Low-value requests are sent to the chopping block due to my clear boundaries and a good sense of maintaining WhiteSpace.
It's the middle-value ones that get you.
They pique just enough interest to keep them on simmer, but not enough to prompt immediate commitment.
As I have grown in my awareness of The Six-Week Illusion, I have been learning to delay my response until after a little WhiteSpace.
When I see a mid-value request cross my desk:
I insert a little wedge of thoughtful time and ask myself to inventory my motives behind saying yes.
I try to separate the emotional (the enjoyment of being asked) from the tactical (an honest analysis about whether this opportunity will truly move business forward).
Then, I try to mentally envision all of the inevitable to-dos and busyness of the real March.
If I'm still on the fence, I try to choose the "No" because less is always a guiding principle in our office. And I know I'll never regret having too much time.
I still have a visceral, undeniable feeling that March will be simpler and easier. And in March, I will probably maintain that illusion about May…and in May about July.
I could use a time travel machine to visit my tasked nervous system in future periods. But until my friends in Silicon Valley make that a reality, I'll just rely on a bit of WhiteSpace to bring the future into focus.
Never miss an inspiring leadership insight or the latest leadership news!
About the Author(s)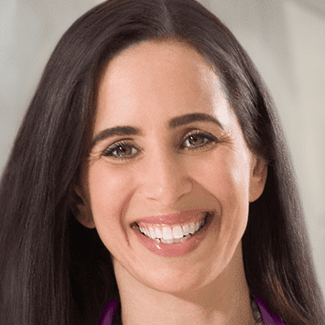 CEO
Juliet Funt is the CEO and founder of Juliet Funt Group, a training and consulting firm helping organizations, their leaders and employees reclaim their creativity, productivity and engagement. With thought-provoking insights and actionable tools, she has become a globally-recognized expert in helping leaders cope with the "age of overload" in which we all live and work. A warrior against reactive busyness and a force for change in organizations around the world, Funt teaches a streamlined method for personal process improvement that reduces complexity in the workplace. Teams that incorporate a WhiteSpace mindset and skill set increase creativity and engagement, reclaim lost capacity and execute at their finest. Her clients include a number of Fortune 100 companies and span a wide array of industries, from financial services to technology, manufacturing to the military. Funt's new book, A Minute to Think, releases at the 2021 Summit.
Years at GLS 2017, 2018, 2021